Aiseh~ kene tkar character la plak....
dlu pakai kamen rider decade...
skrg dh decide nk tkar plak pas de msg yg smpai....
bunyinye cmni... "asal amek decade ak lak nih... ko kuuga dah la..."
sng citer kaki2 kamen rider kat tepeng dpt rider yg diorg nk masing2....
aku dapat Kuuga sbb xde org nk amek although rider ngan form yg mmg byk...
pas carik mane yg best..
bru la ak dpt ilham pas ak browse blk lagu2 anime2 ak....
ni la Blood+ !!!
nmpk je cm x padan...
tp bg ak ni la fearsome and romantic duo...
Saya and hachi.
pas lame x update blog nih, meh la nk ulas sket...
citer ni pasal vampire yg hilang ingatan pas perang kat vietnam...
name vampire ni Saya.. (yg pompuan tu..)
idop dye as anak angkat dlm family Otonashi aman je...
ni gambar familynyer....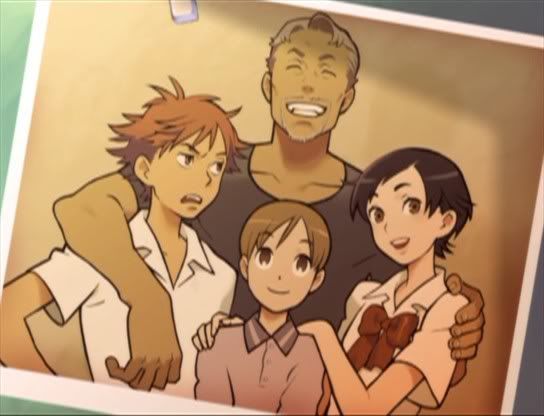 (clockwise from right: Saya, Riku(bongsu), Kai(sulung) dan bapaknyer...( lpe lak name... eheh))
sampai ada satu malam Saya kne serang dengan makhlk yg dipanggil Chioprteran
pada masa yang sama, Hachi dtg nk bangkitkan balik vampire-self yg dh lame terpendam...
lepas beberapa kemudian, br dpt tahu yg hantar chiropterans ni sume angkara kakak Saya..
namenye Diva... (Saya Diva?? haha.. Kakak kandung ye??)
(Diva is on the right one...)
Angkara insiden Riku dan bapaknye terbunuh sbb nk lindungi dye,
Saya tekad nak bunuh Diva...
Anime ni ade 1 season je, total episode 50..
sape yang suke tgk bloody battles, bleh la tgk ni. mmg byk....
catchphrase untuk anime: nankurunaisa
maksud dye korg leh tgk kat header blog ye?
opening ngan ending dye ak ade add kat mixpod ak...
(mntk maaf sbb ak amek final op ngan ed...)
(OP: raion.... ED:Brand New Map)
nk tlis ape lagi ye? dh lmbt tul...
sok keje, x sdr diri tul...
(hehehehehehe....)
ok la. mntk dri dlu...
igt! nankurunaisa!!
(dicoret dari:11.45 p.m.-12.05a.m.)